Following the murder of George Floyd in Minneapolis, MN, on May 25, 2020, protests broke out across the nation. Floyd was killed after a white police officer kneeled on his neck for nearly 9 minutes. In response, hundreds of protestors gathered in downtown Asheville from May 29- June 6, 2020, with cries for justice and change.
During this time, Lowe's Home Improvement generously donated plywood for downtown business owners to cover their storefronts while Asheville had its own reckoning. Business owners and artists seized this opportunity to lend their support for needed changes by painting murals on the plywood covering downtown businesses. Local muralists Gus Cutty, Kathryn Crawford, and Dustin Spagnola were the driving force behind this initiative.
When it came time for the murals to come down, local artists Evar Hecht and Ben Nelson had the foresight to collect and temporarily store these works, gathering over 150 pieces of plywood. The Asheville Area Arts Council, with the help of Dogwood Health Trust, then stepped in to move the murals to a secure, climate-controlled storage facility and worked with Aisha Adams of Equity Over Everything to determine next steps.
After several COVID setbacks, the arts council is proud to have partnered with the Martin Luther King Jr Association of Asheville and Buncombe County to present this virtual exhibition, auction and speaker series. It is our hope that the proceeds from the auction will support continued change and healing  in our community.
Thank you to Dogwood Health Trust for generously providing the funding to make this project possible, and to the artists and business owners for donating their time and energy to capture this moment in our history.
A video about the exhibition is featured as part of the 41st Annual Dr. Martin Luther King, Jr. Commemoration.
Mural of Maya Angelou by artist Elizabeth Every. Photo by Kai Lendzion. 
Mural Gallery
If you have additional images and/or information that you would like to see added to this archive, please email us at info@ashevillearts.com.
Auction
During the month of February 2022, the Asheville Area Arts Council conducted an online auction featuring several of the 2020 AVL Protest Murals. All proceeds from the auction were then split evenly between The Martin Luther King, Jr. Association of Asheville and Buncombe County's COPE Program and the Asheville Area Arts Council's Arts Build Community Grant. The remaining murals were then donated to BeLoved Asheville to support the BeLoved Village Project.
Community Outreach Providing Empowerment (COPE) Initiative
The Community Outreach Providing Empowerment (COPE) Initiative focuses on empowering residents living in Asheville and Buncombe County through educational outreach, workshops, seminars, and special events.  The Martin Luther King, Jr. Association of Asheville and Buncombe County, Inc. places great emphasis on the goals of Dr. King that foster economic development, affordable housing, and self-sufficiency.
Arts Build Community Grant
Now in its 5th year, the Arts Build Community Grant supports innovative, arts-based projects that inspire diverse groups of participants to be more active, involved, and  civically-engaged by creating together.
Apply now! Grants range from $500-2,500 and priority is given to projects based in low-income neighborhoods, Title 1 public schools, and communities in need. Application deadline is February 14th.
Register now for these free virtual events! 
2020 AVL Protest Art Reflections
February 9 | 12-1 pm
Moderator: Aisha Adams 
BIPOC Public Artists in Asheville
February 16 | 12-1 pm
Moderator: Stephanie Hickling Beckman
BIPOC Engagement in Public Art
February 23 | 12-1 pm
Moderator: Sekou Coleman
Other AVL 2020 Protest Art
Have other local 2020 protest art you would like use to feature? Email us at info@ashevillearts.com.
Black Lives Matter Street Mural
On Sunday, July 19, 2020, 20+ artists came together to create a Black Lives Matter mural in the heart of downtown Asheville. Many thanks go to Councilwoman Sheneika Smith for providing the leadership to bring community members, artists, and the Asheville of City together to create this community project.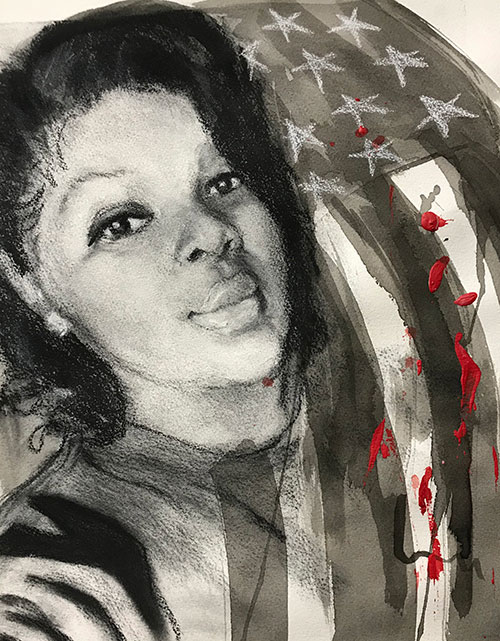 In Solidarity
In Solidarity, an exhibition by Pink Dog Creative artists and associated friends, seeks to speak to the violence, fear and grief caused by centuries of injustice to Black people and to celebrate the many contributions made by people of African descent to the culture of this country and the world. At…